NexMotion – The Next Generation Motion Control Solution
The fourth industrial revolution, Industry 4.0, defines the technological convergence of smart factories, smart machines and smart products to the Internet of Things to allow direct communication and information sharing between one another. To lay the groundwork for Industry 4.0, GEMOTECH's leading machine automation solution, NexMotion™, provides the combination of advanced embedded computing and automation technology to harness the capabilities of smart machines. NexMotion's full spectrum of product lines include NET series, PAC series and MAC series, all of which are based on open architecture, integrated and decentralized designs to meet a range of industrial automation applications.

NexMotion NET Series
NexMotion NET series, leverages industrial grade Ethernet technology and offers networking solution supporting EtherCAT protocol for controlling functional modules outside of the controller. The built-in controller, also known as the fieldbus master, digitizes high speed legacy signals into commands and broadcasts them to the corresponding I/O modules, to slaves near actuators, or to sensors located several meters away from the controller. The communication technology ensures successful delivery of the commands over long distances and reduces the possibility of distortion and disturbance to the signals.
The "digitized" commands also provide the benefit of allowing users to monitor or configure the slaves directly from the master without having to disassemble the machine in order to access the front panels of the slave devices. For certain slaves such as servo drives, this technology also upgrades the performance of the slaves by eliminating the limitation of the input pulse rate.
Diagram: NET Series Application
NexMotion PAC Series
NexMotion PAC series is a compact and open architecture industrial robot control solution that provides a framework to control commonlyused industrial robots, such as articulated robot arms, 4-axis delta robots and SCARA (Selective Compliance Assembly Robot Arm) robots. Supporting various coordination systems, storage of position data, on and offline robot language editing and different operation modes, the PAC series covers all the fundamentals of a robot controller.
The PAC series is capable of issuing analog commands to servo drives and interpreting feedback signals from quadrature encoders to allow general servo systems perform full closed-loop servo control, enabling fast and precise movements. In addition, with integrated robot kinematics, logic control and built-in HMI editor, the PAC series offers robot manufacturers, research organizations and users with highly customized requirements a reliable and fast-to-deploy solution.
Diagram: PAC Series Application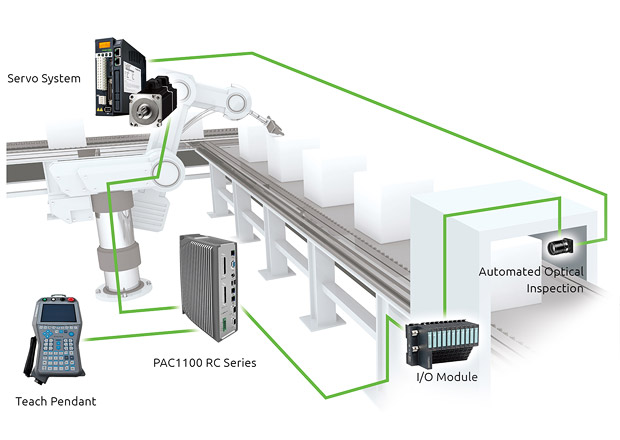 NexMotion MAC Series
NexMotion MAC series is composed of motion control add-on cards and various industrial computers, such as MAC, NISE and PBOX. The add-on design makes the MAC series expandable for extra functionality, and scalable for controlling increased numbers of control axes and increased channels of input and output devices, including isolated digital channels.
The MAC series can handle the servo drive with full closed-loop control, resulting in excellent coordinated movements for each servo motor, a fundamental requirement in many industrial applications, including CNC, gantry, flying-saw and so forth. The MAC series not only excels at complicated trajectory planning, it also supports point-to-point movement, which is commonly implemented in PCB and semiconductor manufacturing machines, such as screen printing machine and die bonding machine.